Private Tours of Palermo, Monreale and Cefalù with historian Jacqueline Alio

Philosophy
•
Itineraries
•
Comments
•
Books
•
Contact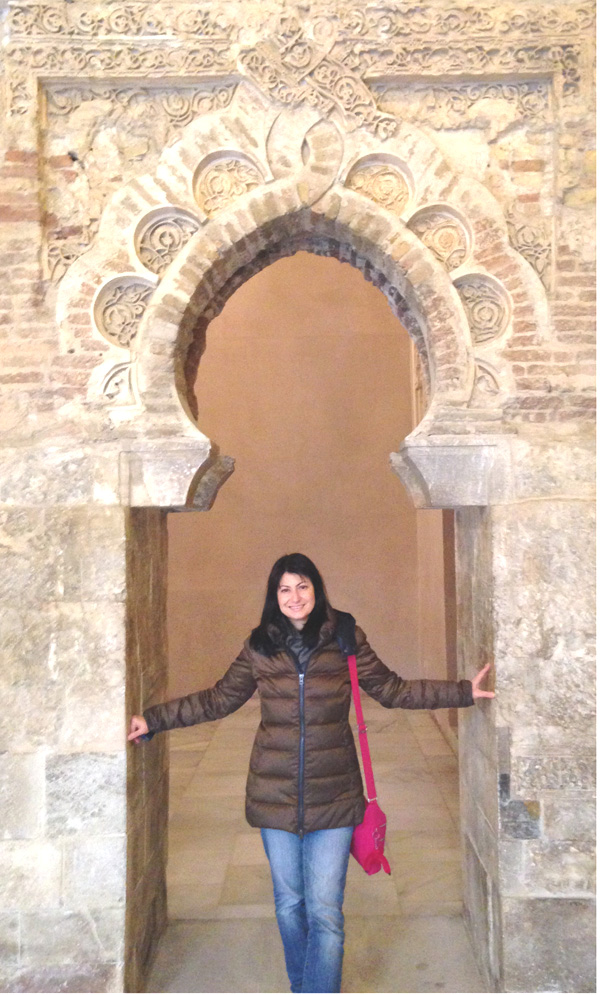 Amongst Sicily's historians, Jackie Alio stands out as one of the very few whose books are published in English, captivating an inter­national reader­ship. Her landmark work, The Peoples of Sicily - A Multicultural Legacy (New York 2013), touches the very soul of the pluralistic cultural heritage of the world's most conquered island, bringing us the inspiring message that tolerant, multicultural societies can flourish in our times. More recently (in 2015), Jackie authored Women of Sicily - Saints, Queens and Rebels, the first book about the historical women of Sicily written in English by a Sicilian woman based in Sicily. Margaret Queen of Sicily (2017), the first biography of this queen and the longest peer-reviewed monograph ever written in English by a historian in Sicily, is available from Amazon, Barnes & Noble, Waterstones, Indigo, Fish Pond and other vendors. Jackie also wrote an insightful guide to medieval Palermo. Even if you don't have her books, you can read her online articles, visit her Amazon page or download her useful Sightseeing Tips for Norman-Arab Palermo.
Consulted over the years by The Discovery Channel and other media (she recently participated in a programme about Frederick II broadcast on Canadian radio), Jackie has earned a reputation as one of just a handful of scholars with the ability to convey Sicily's every nuance, and to connect its past to our present.
A native speaker of English who has studied in Europe and America, Jackie is specialized in Sicily, and particularly the island's north-western areas of Palermo, Cefalù, Monreale, Segesta and Erice.
Having deep roots in Sicily, Jackie brings a special passion to her work.
These are not "generic" group tours. Every tour with Jackie is fully customized, personalized to your interests. Contact Jackie to begin planning your day tour or shore excursion. A few itinerary ideas follow on this page. (Read some satisfied clients' emails and comments.)
A Philosophy of Sightseeing
Sightseeing is one thing, but actually appreciating the sights is another. The best guides understand that no archaeological or historical site, no work of art, no single place stands apart from its place in history. It's all about context. As Sicily's multicultural heritage was shaped by numerous civilizations – from the Sicanians, Phoenicians and Greeks to the Arabs, Normans and Swabians (among others) – it helps to know something about the peoples who lived beyond Sicilian shores. Polyglot medieval Sicily was home to Arabs and Jews, and to two "branches" of Christianity – Greek "Orthodoxy" and Roman "Catholicism." Jackie is a rarity because she understands the complex connections at this unique convergence of cultures and – as history should never be boring – she knows how to explain this to visitors in an interesting way.
This scholarly and practical competence reflects far more than a profession. One might even say that it is an art based on the expression of natural talent and intellectual insight. Beyond mere "observing" or seeing, the best guides can take you to the plane of discovery and understanding. Like the best surgeons, the best guides know more than others.
Of course, it is possible to visit an interesting place without a private tour guide. But Sicily's unique history makes a walking tour of Palermo with a guide an appealing option – for at least part of your visit – even if you usually prefer independent travel. A day sightseeing with a private tour guide is the perfect complement to independent travel. While Jackie and other licensed tour guides frequently work with larger groups (of ten or more), they can also be hired for smaller ones, even if your "group" is just you and your spouse.
Don't confuse this with those sites that list numerous tour guides' profiles and photographs along with a few standard itineraries, and then invite you to "directly" contact the guide through their site. All of Jackie's services are tailor-made and contact is exclusively, directly with her. There is no "go-between" and therefore no confusion. And while there are certain popular sights, there are no set, "standard" itineraries. You will be sightseeing at your own pace.
Let's talk about your Sicily experience, which will be personalized to your interests. Here are a few itinerary ideas for your day tour. Contact Jackie for more information, details and rates.
Jackie cannot respond to queries regarding historical research projects or Sicilian family history (genealogical) research. Books and articles on Sicilian family history can be found on Best of Sicily's Sicilian genealogy page.
A Few Itinerary Ideas
Medieval Palermo and Monreale: The legacy of Sicily's Norman kings comes alive. See Palermo Cathedral, the Norman Palace, Saint John of the Hermits Monastery and, following lunch, hilltop Monreale Abbey.
Aristocratic Palermo: Visit the Norman Palace of Sicily's first kings, with its Phoenician foundations and palatine chapel. Then we'll see Palazzo Mirto, a Baroque residence of a noble family, and the Steri, a medieval castle.
Judaic Palermo: Highlights of Palermo's Jewish heritage, built by a community which flourished in the city until the end of the fifteenth century. Because Jackie's itineraries are based partly on original research, they're especially insightful. This is far more than an "ordinary" day tour of Palermo.
Culinary Curiosities: A visit to one of Palermo's colorful street markets, established as Arab souks in the ninth century, followed by lunch and a wine tasting.
Discovering Palermo: Sites and monuments that give you a lasting impression of this colorful city: a medieval street market, the imposing Cathedral, the Martorana and its mosaics, Piazza Pretoria Fountain, Palazzo Mirto and more.
The Leopard's Palermo: Discover the places that inspired Giuseppe Tomasi di Lampedusa's classic novel, The Leopard (Il Gattopardo), in a personalised walking tour of the city as he saw it. This itinerary can easily be customized to include a lunch based on Sicilian baroque cuisine typical of the 19th century.
Theme Tours: As you can see from these descriptions, it's easy to plan a personal walking tour dedicated to a specific theme – for example, Baroque or Byzantine architecture, the Kalsa, the local gardens, Palermo's castles.
Charming Cefalù: Drive along the coast to the seaside town of Cefalù. See its stunning Norman Cathedral, stately medieval Cloister, and ancient stone streets. Lunch, if you wish, at a local seafood restaurant along the shore in the old city walls.
Segesta and Erice: Segesta's ancient Greek temple is one of the best-preserved in the world. Founded by Carthaginians, Erice is a charming hilltop town with stone streets and delightful treasures that include great restaurants and pastry shops.
Corleone and the Royal Hunting Lodge: Venturing into the hilly hinterland beyond Palermo, you'll discover the real Sicilian countryside with a visit to Ficuzza, the Bourbon kings' hunting lodge on an estate that includes a forest, lake and streams, and to nearby Corleone, haunted by the ghosts of Sicily's colorful rustic bandits. (A country-style lunch and/or a wine-tasting can be included with this day-tour.)
Informative Links: Palermo • Monreale • Cefalù • Ficuzza • Segesta • Erice • Street Markets • Norman Sicily • Arab Sicily • Jews of Palermo • Sicilian Food & Wine
"We arrived home last evening, tired but happy. What a great trip we had. Being with you was a highlight for us. We enjoyed your company, the many conversations, all of the history and information you gave us. You could answer all our questions. And, besides that, you are an incredibly nice person. It was an absolute joy to be with you. If there is anywhere we could post a review that would help you, let us know. And remember, the invitation to Texas is always open."
– Brenda & Gordon V.
"Many thanks for your great guidance in Sicily! It was the highlight of our trip. I will be sure to send others your way."
– Marian T.
"I'm sorry this note has taken so long to get to you. On behalf of Doug, Judy, Gayle, Carla, Larry, Roy, and myself, I want to thank you for such a fantastic tour of Palermo! It was a highlight of our trip. Your knowledge, kind and warm manner, tour itinerary, and selection of a wonderful restaurant to finish up the day could not have been better. We certainly hope to see you again in Palermo. I will return with my brother and children some day. We fell in love with Sicily. Our stay close to Scopello was perfect. We attended the Cousous Festival in San Vito, and with your help, found the town my grandmother's relatives are from, Piana degli Albanesi. The temple at Segesta is also a must-see.
"Please feel free to use this letter as proof of our complete satisfaction with your service. We cannot recommend you highly enough. Any of our friends that are going to Palermo will hear of your service and get our recommendation to use it. Should you visit southern California, please feel free to ask us for assistance. We'll help any way we can with directions or our favorite places/restaurants to visit. I'm afraid we won't be able to find any lung and spleen sandwiches!"
— Charles J.
"Now that we are back home we must thank you for the amazing guide that you arranged for us Michele. Jackie was fantastic!
"My whole family (from the youngest to the oldest) was thrilled with the extent of details and knowledge about everything that she shared with us always with a smile, the 'tempo' she kept, the places she managed to fit in in the short time we had on shore and the great ice cream that ended the wonderful action-packed day.
"The sights were everything we had hoped they would be,and thanks to you and Jackie we will have many excellent memories!"
— Judy S.
"Thanks so much for the tour you gave us of the 'other' Palermo. It was fascinating. We still talk about it with our friends and will recommend your services to anyone we know going to Sicily."
— Joel D.
"Just a quick note of thanks again for our brief two days together in Palermo. You were great. It was fun. What I saw with you was much more than the rest of my group did later in the month when they finally arrived in Palermo. They simply did not have the leisure that you and I had. And perhaps you did a better job than whoever was showing them around. I was able to give them eagerly anticipated info on your fair city. I appreciated seeing it from public transportation without having to be distracted with the driving of my own vehicle, and from your perspective."
— Harriet D.
"You cannot imagine how often we all talk about our visit in Sicily a few months ago. During the two days you were with us, you made these many treasures you showed us come alive. Many, many thanks. We took, as you know, many pictures, including some very nice ones of you. I have had these now on my desk to send to you, but was not able to find the address you had given me."
— Sam J.
"Now that I have recovered from the late flight home, I thought I should like to thank you so much for all the help you gave me with the itinerary and restaurants in and around Palermo. We all much enjoyed your very clear, intelligent and well-organised guiding style. Of course the Palermo end of the tour is quite the most stunning for most people and we were all sorry we did not have more time in Cefalù which everybody thought really charming. I had rather wondered how we would cope with so many different guides – four in all as it worked out – but the calibre of each and every one of you was excellent."
— Renata B.
Informative Links: Palermo • Monreale • Cefalù • Ficuzza • Segesta • Erice • Street Markets • Norman Sicily • Arab Sicily • Jews in Sicily • Sicilian Food & Wine